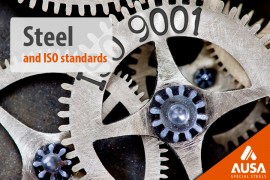 The International Organization for Standardization, known as ISO was created in 1947 to promote the development of international standards and specifications on the manufacture of all products (ISO means equal in Greek), with the exception of those belonging to the electrical and electronic branch (under the guidelines of the IEC, acronym of its name in English International Electrotechnical Commission).
ISO is formed by a network of institutions in 161 countries (in 2017), with central headquarters in Geneva (Switzerland).
ISO standards cover different aspects of production and trade, such as those governing competition requirements in testing and calibration laboratories, quality management systems and information security systems.
The adoption of ISO standards is voluntary but they are so widespread that they practically cover every aspect of our daily life, thus protecting the consumer and user of products and services.
Why does the need of developing ISO standards arise?
Historically each country created its own standards to regulate and standardize the qualities and delivery conditions of products. The definition of the standards begins with some letters that specify the origin of their creation.
As far as steel is concerned, some standards and the origin of the acronym are listed below:
UNE (Una Norma Española) in Spain
UNI (Ente Nazionale Italiano di Unificazione) in Italy
DIN (Deutsches Institut Für Normung) in Germany
ASTM (American Society for Testing and Materials) in America
AISI (American Iron and Steel Institute) in America
SAE (Society of Automotive Engineers) in America.
JIS (Japanese Industrial Standards) in Japan
In order to ease the free movement of materials within the European Community, CEN (abbreviation in Spanish of Comité Europeo de Normalización – European Committee for Standardization) decided to establish EN standards in order to unify the standardization criteria, as a substitute for existing standards in each country.
The EN standards are voluntary (unless a legal provision sets a mandatory compliance) and constitute evidence of presumption of conformity of products with respect to the essential requirements of these directives.
ISO goes a step further and develops international standards of voluntary compliance to coordinate the national standards of each country to facilitate trade, exchange of information and contribute with common standards for the development and transfer of technology.

ISO standards on Steel
Steel is considered to be one of the most widely used materials worldwide. Its impact on industry, construction and economy makes that almost all countries have established standards aimed to ensure the quality of products related to Steel.
The International Organization for Standardization develops ISO standards in order to guarantee the quality of steels, regardless the country of origin or the country of destination.
As an example, ISO divides the metal materials into 6 different groups. Each group has its own unique properties according to machinability. Steel is included in group "P".
There are ISO standards for specific materials and applications. They cover the technical specifications of steels, their general characteristics, conditions of supply, test, control and characterization methods, documentation and certification requirements, etc.
AUSA integrates in its management system the ISO standards to guarantee the quality of the products, providing our customers the expert advice of our technical team. You can download the ISO certificates in this link
Remember to read these related posts.