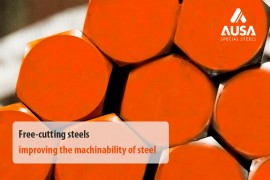 In our last post about Special Steels, we talked about the different families of these types of steel. Among them, the type of steel we are introducing now is included.
We consider a free-cutting steel a type of steel presenting a high machinability, that is, a steel that can be easily machined by chip removal.
Why are we interested in producing steels with high machinability?
The processes of machining by chip removal allow to obtain pieces of high complexity and dimensional accuracy. However to be able to produce long series of pieces at an acceptable cost it is necessary to be able to manufacture at high speeds.
Longer life of the tool, higher flow of chip removal during machining, higher quality of the workpiece finish and easy removal of the chip are factors that occur when having greater machinability of the steel, allowing higher machining speeds.

At this point, we must stand out the sector of the bar turning: metal workers of revolution pieces where the most efficient productions are achieved thanks to the automatic processes of feeding and machining and where free-cutting steels are used.
Free cutting steels
These steels are defined in standard EN10087. They are basically carbon steels with a high content of sulfur  or sulfur and lead . They are divided into steels not intended for heat treatment, for case hardening  or for direct-hardening steels .
However, other steels that are not included in this standard are considered to be of improved machinability by modifying their composition by the addition of sulfur and/or lead; materials as different as non-alloy steels  and stainless steels have better machinability when they contain a percentage of sulfur by weight greater than 0.015%.
In the case of some carbon steels, up to 0.35% of lead can be added to improve machinability.
Mechanism to improve machinability of steel.
The addition of elements such as sulfur and lead produce inclusions that improve the lubrication of the tool during the cutting process, favoring in turn the break of the chip by giving brittleness to the steel; this embrittelment is increased with phosphorus  addition.
Manganese sulphides are the main engineers of the free-cutting steel, therefore free-cutting steels have high contents of sulfur and mangenese  for their formation.
Other elements such as selenium or tellurium  could also be added to improve the morphology of those inclusions.
Other factors to be taken into account to improve the machinability besides the chemical composition
We must take into account that depending on their microstructure, steels can have a better or worse machinability. For this reason the condition and finish of the steel have an influence in the machinability:
The annealed steel has better machinability because it presents a more homogeneous and "soft" structure than excessively hard steels.
Cold-drawn steel sometimes have a higher machinability, due to its dimensional accuracy, which favors an optimal performance in high-speed automatic machines, and because the hardening caused by the cold drawing process increase the machinability in very soft steels avoiding tool blunt.
In conclusion, free-cutting steels are an exceptional choice for high-speed machining and so far no such efficient substitute has been found for this type of process.
However, it must be taken into account that what increases machinability can worsen factors such as surface quality, toughness or fatigue strength among others; and this is why in order to select the right steel we have to take into consideration not only the process but also the final application.
AUSA Special Steel has a large stock of free-cutting steels and has the best specialists who can offer you more information or technical advice on this type of products.
Remember to read these related posts.