Special steels
–rolled steels and forged steels- offer
great versatility of applications
and are
widely accepted
. They offer a wide range of possibilities of use in all industrial sectors.
AUSA is specialised in the supply of special steels. We are set apart from the rest by offering a great logistics service (strategic location of our warehouses and our own fleet of trucks), our wide range of stock and in the homogeneity and quality of our special steels.
The range of special steels we supply are: carbon steels, quenching and tempering alloyed steels, case hardening steels, seamless tube, bearing steels, spring steels, cold work tool steels, hot work tool steels, free cutting steels, stainless steels and boron steels.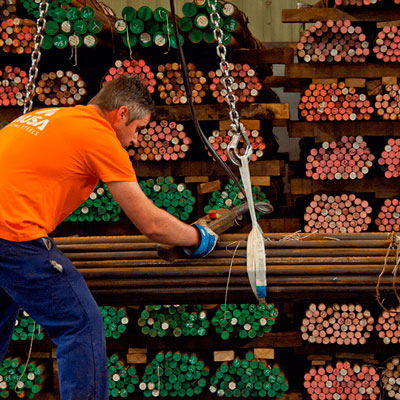 Advantages of our special steels

QUALITY
We have a strict quality system that controls all processes and procedures ensuring a homogeneous quality material. AUSA is certified by standard ISO 9001:2008.
We offer complementary services of cutting and cold drawing to our customers.
Since 1957 we supply
special steels
to industrial companies belonging to all kind of sectors: automotive, forging, machine-tool, mould making, free cutting, aeronautics, agriculture, …
Our goal is to meet our customers' needs and we do it relying on the professionalism of our team, the specialization in quality steels and the proximity to our customers.
What kind of special steels does AUSA work with?
AUSA works with different grades of special steels. The properties, applications, chemical composition, equivalent standards, heat treatments and dimensions vary depending on the grade chosen.